Sustainability is in our nature
South Tyrolean nature is a real paradise that we need to cherish and protect. That's why we've always lived in harmony with nature here at Hotel Urthaler. We consciously prioritise quality, sustainability, and regionality. 20 years ago, during construction, we already attached great importance to resource preservation – and we're overjoyed when our guests are also mindful of resources and contribute to environmental protection. Because together, we can achieve truly great things. Our priorities here in the South Tyrolean mountains are the idyllic landscape, clean water, and pure air – we preserve them by using a pellet heating system, by consistently separating waste, and by being aware of the importance of nature to us.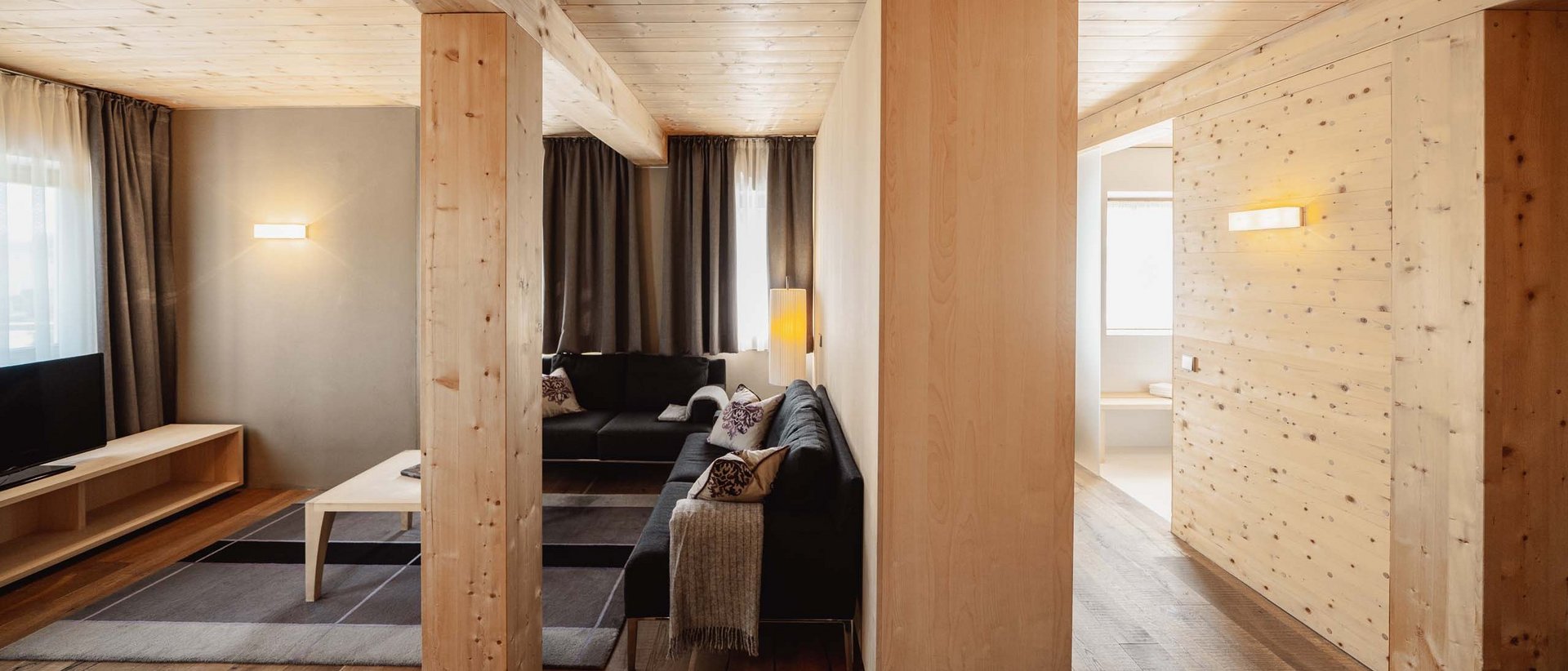 Our hotel: love for the environment!
Did you know that our Hotel Urthaler is the first wooden design hotel in the Alps? We're proud to say that real pioneering work was involved in its construction. Together with three Bolzano architects, we transformed our idea of a sustainable, timeless hotel into reality. It was built using the power of trees, by which we mean Erwin Thoma's "Wood100" construction method. With natural materials from the surrounding area, together with local craftsmen and suppliers, with clear lines and no frills. Just like Mother Earth would make it. The result is a hotel that's built entirely without glues or artificial preservatives and that gives our guests fresh, vital energy in a natural ambience.
We can rightly claim to be the warmest and most comfortable hotel in the Alps. The wood was harvested during a particular phase of the moon, so that it's particularly resistant. We avoided using varnishes, paints, and other chemicals, and instead of metal nails, we used wooden dowels. We wanted to develop an extraordinary new hotel concept that reflects sustainability but also guarantees comfort and guest satisfaction. Today this is often described as pioneering work. This sustainable and eco-friendly building method also extends to smaller details, such as the use of classic room keys instead of magnetic cards.
Regionality in every detail
Of course, we're all about sustainability in our kitchen, too. Our motto: eat and enjoy thoughtfully. Everything we serve at Seiser Alm Urthaler is selected with love and care, by which we mean that we focus on regionality and seasonality, on sustainability, on individual taste experiences, and on a refined presentation. Every day, our kitchen team prepares fresh, healthy dishes for our guests, starting with the breakfast buffet featuring all kinds of local delicacies, continuing with the afternoon snack with homemade cakes, and culminating in the choice of 5-course dinner in the evening. And when you enjoy an à-la-carte lunch in the Jägerstube restaurant, you'll be spoilt with fresh, quality products and the finest wines from the region.
How we live sustainability at our hotel
Dry soap without preservatives, regional, and without packaging
Water from our own spring – no bottles, no transport routes
Charging station for electric cars and e-bikes
In-house laundry with organic detergents, powered by solar energy
In summer: hand-picked herbs from the Carlottenhof in Seis
In autumn: hand-picked plums, pears, and apples from the Carlottenhof in Seis
Water-saving toilet flush and shower heads
Hand-knotted carpets with natural colours
No slippers
Saving electricity: interruption of the electric circuit when the key is removed